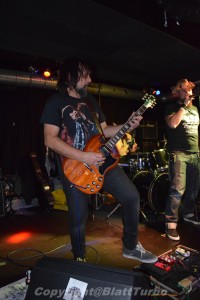 Was war das für ein Open Air Sommer dieses Jahr bitte? Nicht nur große Festivals hatten es mit der Naturgewalt zu tun, sondern auch die kleinen. Darunter auch das Summernight Open Air in Mechernich. Aber irgendwie muss es ja weiter gehen.
BlattTurbo war auch im November erneut im JKC Troisdorf um mit unseren Freundesn des Hard´n´Heavy e.V. erneut eine Metal Party zu feiern! Schon das zweite mal in Folge und es war richtig was los! Programmtechnisch gab es wieder ordentlich was um die Ohren. Mit JohnBoy, The Helldozers und Riot in the Attic, war für jeden was dabei und das für schlappe 5€.
JohnBoy machten den Anfang mit richtig fettem Heavy Rock, gefolgt von The Helldozers mit groovigem Metal gepaart mit Southern Rock und zum Abschluss kamen Riot in the Attic mit Stoner Rock´n´Roll der 70iger Jahre – es war für jeden was dabei und den Leuten hat's mega gefallen!
Sind wir mal gespannt, was nächstes Jahr für ein Wetter (Sommer) auf uns zu kommt. Das Line – Up für das Summernight 2017 ist schon komplett und sieht wie folgt aus:
Hammerking (Powermetal mit oldschool Einflüssen à la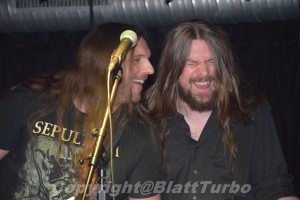 Judas Priest), Crossplane (Streetrock, Punk, Metal und vor allem Rock 'n' Roll!), Hopelezz, WOLFEN (Powermetal aus Köln), Beltez (Black Metal), King Leoric(Heavy Metal), ZEROGOD (Old-School-Death und Thrash mit vereinzelten Grindelementen), Divine:Zero (Melodic Death Metal), Hereditary (Death Metal aus Sankt Augustin), Stormhunter, Skelfir (Viking Death Metal), SpiteFuel(Ass kickin' Hard and Heavy Rock from Southern Germany) und Sortout(Metalcore Einflüssen und melodischem Gesang).
Das ganze wird vom 21.07 bis 22.07.2017 stattfinden. Und es gilt mal wieder der bekannte Grundsatz: Umsonst & Draußen! Also Eintritt, Campen und Parken sind FREI! Kalte Getränke und Heißes vom Grill wird wie immer zu günstigen Preisen verkauft.