Ein neues Festival ist geboren. Mit "Rockaue" gibt es nach dem Ende der Rheinkultur 2011, endlich wieder ein Festival in der ehemaligen Landeshauptstadt Bonn. Es hat lange gedauert, aber nun kann wieder gerockt werden in den Rheinauen Bonn.
Bei blauen Himmel und einer Sonne, die jeden zum Schwitzen brach, fand am 11.07.2015 das erste "Rockaue Festival" statt. Sonnenschein, glückliche Menschen, großartige Musik und das alles von Natur und auch Kultur umgeben. Mit vier Bühnen, hat Maria Hülsmann und ihr Team, ein sensationelles neues Festival auf die Beine gestellt. Neben den Hauptacts Schandmaul, Maxim und Jennifer Rostock wurden heimische Bands und Künstler aus der Region Bonn geholt.
Das Festivalgelände selbst öffnete sich den Besuchern leider
etwas verspätet, was aber der gesamten Stimmung kein Abbruch tat. Dem Besucher wurde neben den großartigen Musikern auch so einiges geboten. Es fehlte an nichts. Es gab also genügend Alternativen, die man sich neben dem Musikprogramm geben konnte.
40 Bands sind dort aufgetreten. Bands aus jeglichen Genres. So konnte man von einem Punk-Konzert zum Elektro-DJ wechseln, oder vom Hip-Hop zum experimentellen Reaggie, worauf auch immer man sich gerade einlassen wollte.
Zu viel war es dennoch nie, denn auf dem großzügigen Gelände mit vielen Bäumen und großen Wiesenflächen konnte man sich auch immer einen ruhigen Ort zum Ausruhen suchen, wenn man denn wollte, und das trotz der etwa 20 000 Besucher.
In dieses glückselige, verklärt malerische Ambiente passten Bands Aardvarks, Angels And Enemies, At The Farewel, Betray Your Idols, Blackout Problems, Boppin B, Calibre Infinite, Dayton, Eat The Gun, Felix Jaehn, Freedom Call, Gun Barrel, Jennifer Rostock, KlangTherapeuten, La Confianza, LebensWeGe, Leonard Bywa, L Party, Maxim, Motorjesus, New Day Dawn, Parra For Cuva, Schandmaul, Smash Brothers, Talul, The Fläsh, The Intersphere, Tube & Berger, We Are Wolf bestens hinein, die allesamt mit ihren Gitarren, ihren Stimmen und Lyrics überzeugen konnten.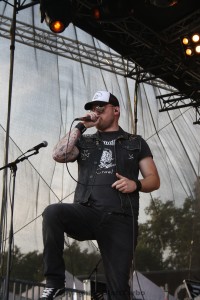 Mit Spannung wurden die Schandmäuler am späten Abend und Jennifer Rostock dennoch erwartet. Diverse Djs brachte die Massen auf der ElectroStage zum Tanzen.
Zusammengefasst: Strahlende Sonne, bezaubernde Musik, gemütliche Stimmung, viele Lichter und gutgelaunte Menschen – Das war das Rockaue Festival 2015.
Wir vom Team BlattTurbo werden garantiert im kommendem Jahr wieder mit am Start sein um dieses gelungene Festival erneut zu genießen.
Rockaue 2016 – WIR KOMMEN!!!