Proll Guns– And the Western Blood runs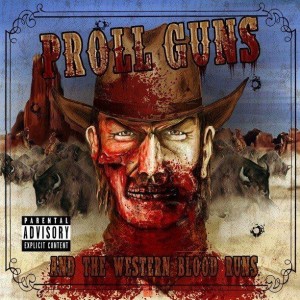 Gerne: Rock´n Western Roll
Proll Guns stammen aus Österreich und sind schon seit 2011 unter dem Banner "Proll Guns" bekannt. Sie wollen ihren Western Trash Metal nach Europa bringen. Ihnen war Österreich schon immer ein Dorn im Auge.
Ranzig und Roh sind ihre Hauptzutaten die gemeinsam mit Speck verkocht und im Bohnentopf verrührt werden. Dies gibt sich auch auf "And the Western blood runs" wieder. Mit Country – Musik haben sie nichts am Hut. Ihr Grooviger in Whiskey getränkter Sound gepaart mit gut turalem Gesang. Dies macht sich innerhalb der Lieder bemerkbar. Wechseln sich groovige Parts flüssig mit pfeilschnellen Riffs ab. Hierbei bekommen die Songs ihre eigene Duftnote.
Hin und wieder brechen rasante Soli das Album gut auf, und allgemein wirkt die Musik so schnell nicht ermüdend. Die Songs sind sauber eingespielt und gut arrangiert. Moderne Songstrukturen, dazu Kick-Ass Tempo, ab geht's!
Fazit: Wer Country Musik nicht mag, aber dennoch auf Western steht, macht mit "And the Western Blood runs" absolut nichts falsch. Das Album ist jeden Cent wert.
Tracklist:
Texas Instruments
Dead or Alive
Prollganza
The Killer & Whiskey
Billy the Kid
Bullets and Blood
Deadland Country
Headshot
Ladies Man
666 Dollars
Verfasst von BlattTurbo Otte