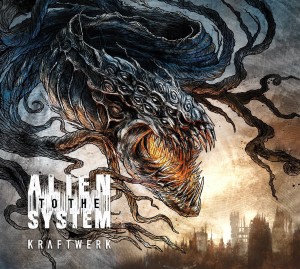 Gerne: Metal, Death-Metal
Den Grammy für den kreativsten Albumtitel werden die 2011 gegründeten "Alien to the System" nicht unbedingt gewinnen, und auch die Song-Namen können diesen Eindruck wohl kaum korrigieren. Dafür liefern Sie aber auf ihrem "Erstling" mit 11 Tracks etwas ab, dass sich hören lassen kann.
Eine spannende Kombination aus Metal und Death-Metal dröhnt von der ersten Minute an aus den Boxen.Diese überzeugen nicht nur mit Abwechslungsreichtum und interessanten Ansätzen, sondern auch mit sehr eingängigen Melodien und Refrains. Im Grunde spielen "Alien to the System" einen ordentlichen und brutalen Death Metal der sich ganz traditionell und genrebewusst gibt, wobei aber auch auf "Kraftwerk", Elemente verwendet werden, die nicht unbedingt für Deathmetal typisch sind.
Tiefer Gesang, der aufgelockert wird durch hohe Schreie? Check. Tempiwechsel und wilde Beats? Check. Es ist im Grunde alles da. Einzelne Songs hervorzuheben, tut nicht Not, denn sie sind alle gut und stilistisch relativ nah beieinander.
Fazit: Die Jungs machen ihre Arbeit eigentlich sehr gut, so dass Anhänger von hart rockender Mucke, die handgemacht und ehrlich rüberkommt, sich gut mit "Kraftwerk" anfreunden können dürfen.Die Zielgruppe kann daher ruhig zugreifen.
Trackliste:
1. Kraftwerk
2. Kontrolle
3. Blut
4. Abgehängt
5. Das zweite Gesicht
6. Lebenslänglich
7. Der Aufstand
8. Menschenfeind
9. Endlos
10. Systemfremd
11. Stilles Herz
Verfasst von BlattTurbo Otte